Dear Alberta MLAs, Honourable Members of the Alberta Legislature,
Hello, I am Trent Johnsen. 
I am the Co-founder, CEO of a communications technology company "liveweb". I serve on the Board of a Calgary-based Venture fund, and worked with Creative Destruction Lab Rockies, Haskayne School of Business at the University of Calgary which over the past 60 months has created over 650 jobs and $1.3 billion dollars in equity value. I served with Alberta's A100 and have worked with the tech community over the past twenty-five years to help accelerate and grow our Alberta tech ecosystem.
I am writing to encourage you to consider supporting a unique, timely, valuable piece of legislation with the power to dramatically improve the future of all Albertans; Bill 203.
Alberta media today is covering a report from the Canada West Foundation about our youth leaving the province:
"youth are leaving because they do not perceive Alberta to have a diverse economy."
As a technology entrepreneur by profession and an economist by education, I see first-hand every day how success in the new digital economy is now the most powerful driver of sustainable growth, good jobs, wealth creation, and our collective quality of life in the 21st century.
The chart below is one of the best illustrations of the exceptional performance of the new 21st-century digital economy relative to the traditional global economy.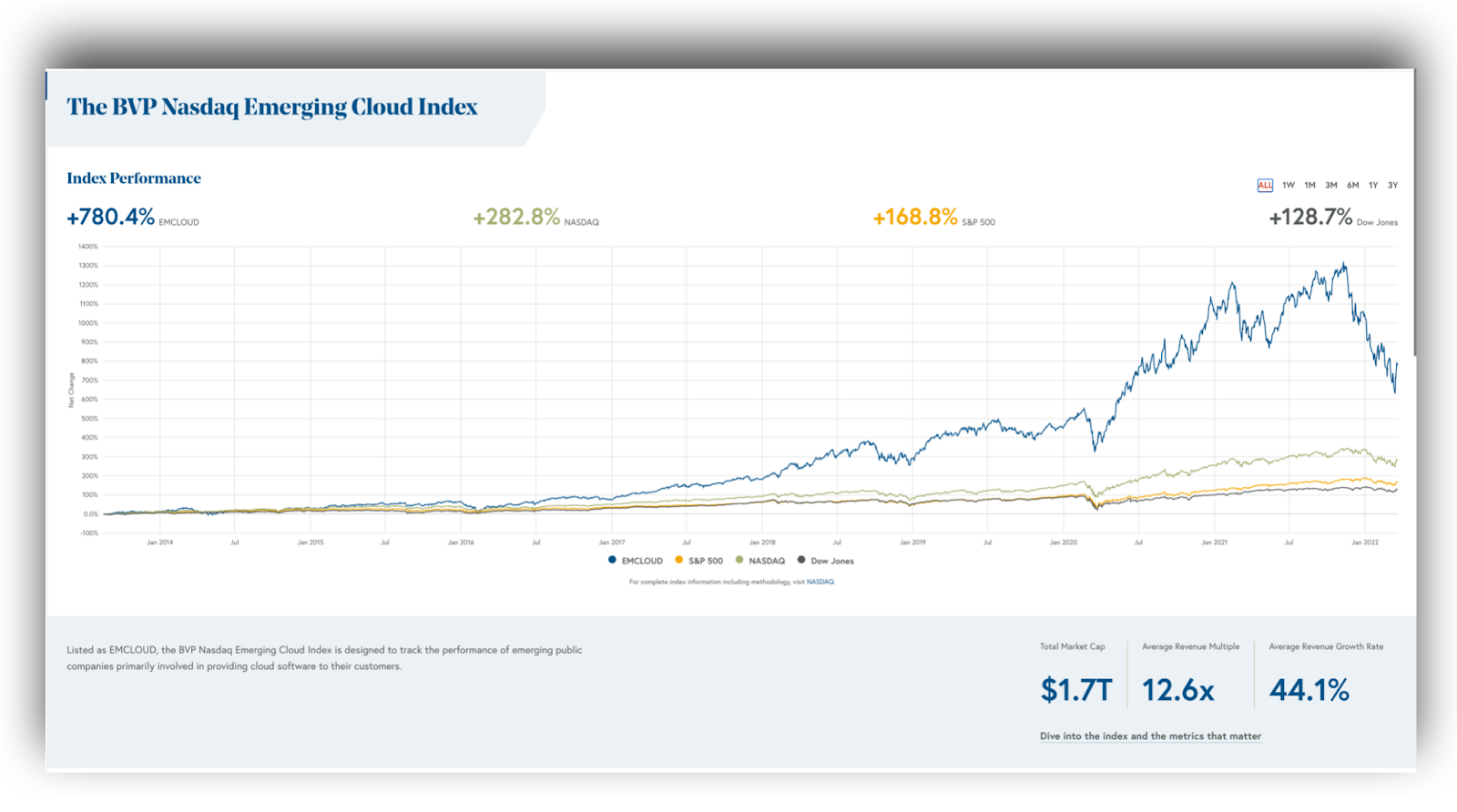 As you are aware, stock markets have achieved record highs over the past several years. The S&P 500, Dow Jones, and NASDAQ are the orange, black and gray lines at the bottom of the chart. The blue line is an index of approximately 200 digital economy companies that make up the $1.7 Trillion (USD) value of the Bessemer Venture Partners Cloud Index. $1.7 (USD) trillion created in less than ten years (since 2014). To put this in perspective, the Province of Alberta's total GDP in 2020 was ~ $244 billion (USD).
Albertans are seeing news lately about growth and success in our Alberta tech sector. While we certainly have entrepreneurs, companies and progress worth celebrating, Alberta continues to fall behind in the new digital economy. The 2021 Canadian Venture Capital Association Report reveals that although Alberta saw $106 million more in capital investments in 2021 than in 2020, we dropped from 10.3% of total investments in Canada to only 3.95%. We're not even keeping up with our Canadian peer provinces let alone the rest of the world.
This legislation is timely, critical and valuable for Albertans. The Alberta Technology Venture Fund will:
Provide capital formation that will accelerate the creation and growth of new economy businesses, the key drivers of growth, jobs and wealth creation
Provide all Albertans with a unique opportunity to directly invest, participate, learn and become proficient in a top-performing asset class, Venture Capital
Attract additional talent and capital by uniquely positioning Alberta globally as a place committed to leading and succeeding in the 21st century digital economy
Contribute to the growth and success of our traditional energy, agriculture, medical and tourism industries as they progress through digital transformation
Albertans are capable and ready to compete and succeed in the 21st-century global economy, the Alberta Technology Venture Fund provides them with the opportunity.
The new digital economy is where most sustainable economic growth, jobs, and wealth creation will occur for decades to come.
This is likely the most effective investment of time and money that Albertans can make.
I urge and encourage you to support and pass this legislation. This is not a political issue. This is an opportunity to accelerate and support an exciting future of opportunities for all Albertans.
You have my email, calendar link and contact information below if I can be of any assistance or if you have questions, I would be delighted to speak with you.
My sincere thanks for your public service and your consideration of this important initiative.
Regards,          Trent Johnsen